by Simon Knowles
This post accompanies Simon Knowles 2014 Journal of Victorian Culture article 'Suburban Identity in Paul Maitland's Paintings of Cheyne Walk'. You can download a copy of this article here.
The rapid growth of London's suburbs during the latter half of the nineteenth century was viewed by the Victorians as an extremely mixed blessing. As a signifier of the entrepreneurial spirit of the middle class, coupled to the high moral value placed upon domestic privacy and family life, there was cause for optimism, even celebration for a form of urban life that seemed to offer an escape from the social problems, pollution and overcrowding of the centre. But the suburb was also viewed with anxiety and suspicion, a place whose privileged social identity was problematized by working class encroachment, architectural monotony and a disengagement from the city's cultural life. Clearly the scale and speed of this development demanded attention, but how was a place capable of carrying so many conflicting social, economic and cultural identities to be defined and understood? Towards the end of the century a small number of artists turned their attention to this difficult subject, including Paul Maitland, whose paintings of Cheyne Walk, produced during the 1880s and early 1890s, made a significant contribution to this debate and which I discuss in detail in 'Suburban Identity in Paul Maitland's Paintings of Cheyne Walk'.
Maitland was a member of a short-lived movement known as the London Impressionists, whose distinct identity was established through a group show held at the Goupil Gallery in 1889. In the accompanying catalogue essay, fellow group member Walter Sickert, reflecting the influence of James McNeill Whistler, argued that the contemporary artist in his search for the beauty of modern life, need look no further than the four mile radius around London's centre. As a long term resident of Chelsea, Maitland responded to this call by focusing on a subject with which he had a deeply felt personal connection, using the aesthetic priorities of Impressionism as a means to formulate a very particular response to the problem of defining the rapidly shifting landscape of suburban identity.
Situated in one of London's most famous suburbs, Cheyne Walk hardly conformed to the stereotype of the anonymous suburban street. As one of the city's most popular riverside promenades, it was well known for its picturesque aspect and for its historical associations with the aristocracy whose large palaces had once lined this section of the river. During the eighteenth and nineteenth century this place identity had been further elaborated by the extensive number of well established writers and artists who chose to settle on this street: including J. M. W. Turner, Dante Gabriel Rossetti, Thomas Carlyle (living on Cheyne Row) George Eliot and Whistler. The large Queen Ann houses at the eastern end of the Walk had, over the years, proved particularly popular. And yet it was precisely these well established, but atypical aspects, of this suburban street that Maitland chose to ignore. Passing over these grand houses, with their artistic associations, his interest was drawn primarily to the rows of small shops, and pubs at the poorer western end of Cheyne Walk. Ignoring the picturesque church he painted the boatyard and the newly laid out park on the recently opened embankment, whose presence and function further endorsed Chelsea's full integration into the spatial fabric of the city.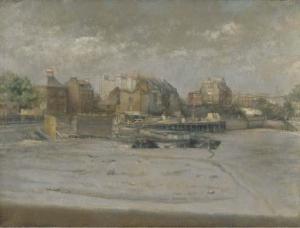 While local historians, guidebook writers and even novelists such as George Gissing, attempted to rescue Chelsea from a potentially problematic present – measured by urban redevelopment and a dramatic increase in its population – by resurrecting its historical identity as 'the village of palaces' [1], Maitland's visual focus was very much on the present and on Chelsea's recently established identity as an inner suburb.  In a visual essay that still resonates with contemporary conceptions of the ordinariness of suburban experience, Maitland's simple and unaffected paintings elevated those very characteristics of the mundane and the everyday, which, for many of his contemporaries, marked out the suburb as a subject unworthy of attention. [2]
[1] Contemporary with Maitland's paintings was a book produced by local historian Alfred Beaver whose title,  Memorials of Old Chelsea: A New History of the Village of Palaces (1892) explicitly stated his interest in reconstructing Chelsea's place identity by calling up on its historical associations with the aristocracy.
[2] To view two further paintings of Cheyne Walk by Paul Maitland please use the following links. For Paul Maitland, Barges, Chelsea Riverside, the 'Eighties (c. 1885-90, oil on wood, London: Tate Britain), go to: http://www.e.tate.org.uk/art/artworks/maitland-barges-chelsea-riverside-the-eighties-n05879
For Paul Maitland, Cheyne Walk: The Corner of Beaufort Street (n.d., oil on wood. London: Tate Britain), go to: http://www.e.tate.org.uk/art/artworks/maitland-the-gardens-chelsea-embankment-t03625