Shannon Draucker, The Man Who Invented Christmas: Dickens and the Literary Marketplace
by lucinda matthews-jones
Shannon Draucker is a PhD Candidate in English at Boston University.  Her dissertation project, Sounding Bodies: Music and Physiology in Victorian Narrative, explores literary responses to emerging scientific understandings of the physics and physiology of sound during the Victorian period.  Her project shows how new discoveries of the embodied nature of music and sound inform scenes in which authors grant their characters desires, pleasures, identities, and relationships otherwise unavailable to them.  At Boston University, she teaches English and Writing courses and is also pursuing a Graduate Certificate in Women's, Gender, and Sexuality Studies.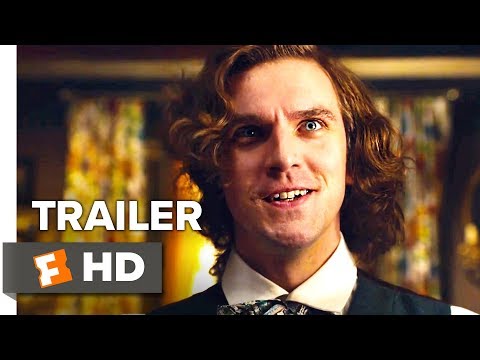 "Does anybody really celebrate Christmas anymore?" asks Charles Dickens's publisher in Bharat Nalluri's The Man Who Invented Christmas. This festive film not only recounts the origin story of Dickens's A Christmas Carol (1843), but how Dickens "invented" Christmas itself – or at least the Christmas traditions with which we are now familiar but that the Victorians did not necessarily practice as regularly. In the film, Dickens (Dan Stevens), reeling after three "flops" (Martin Chuzzlewit, Barnaby Rudge, and American Notes), overhears his Irish housemaid tell his children a supernatural Christmas tale and begins to develop his own "Christmas ghost story."  In creating A Christmas Carol, the film suggests, Dickens ushered in, as he proclaims in the closing scene, the "season of hope in which we will shut out nothing, and everyone will be welcome."
Yet, The Man Who Invented Christmas represents a powerful meditation on the act of writing itself.  In doing so, Nalluri's film continues the tradition of "writer movies" like Little Women, Miss Potter, The Help, Midnight in Paris, and others – and rehearses all of the typical trappings of the genre: the writer's ink-stained fingers, the scribbling quill's scratches on the page (or, in later iterations, the typewriter's click and hum), the hair-pulling moments of creative frustration, and the satisfying grin of the writer as he or she triumphantly scribbles "The End" across the final page.
The Man Who Invented Christmas contains all of these romanticized – some might say idealized – tropes, and more. The film opens in New York City in 1842, as Dickens rides the fame of his Oliver Twist success on his American tour.  Minutes later, however, we shift to October 1843, as Dickens – "three flops later" – struggles to devise a new novel.  Despite his early aggravations – exacerbated by commercial pressures (a house remodel, his wife's pregnancy) – Dickens soon gathers inspiration and insight – moments often signaled by heavy-handed close-ups of Stevens's beaming face.  He meets his inspiration for the miserly, Malthusian Scrooge after a lecture benefitting the Children's Refuge, where a man insists that "pickpockets" and "charity-boys" – members of the "surplus population" – "don't belong in books."  That same night, Dickens comes across a businessman's burial, where he first hears the "humbug!" that ignites his imagination of Scrooge's signature phrase and precipitates a comic scene in which Dickens runs home, shouting "Humbug!  Humbug!" before locking himself into his office and beginning to scribble away.
n these moments, the film produces the fantasy that "realism," indeed, derives from a one-to-one correspondence between life and art; the characters, places, and dialogue Dickens invents are versions of people and things he encounters in real life. These moments heighten the charm of the film, as viewers delight in recognizing details from A Christmas Carol as well as elements of Dickens's later fiction; we learn that Dickens keeps the names "Heep" and "Magwitch" (David Copperfield, Great Expectations) tucked away in his notebook of names for future use, and in a climactic closing scene, we meet a friendly constable named "Copperfield," whom Dickens would transform into his bildungsroman hero only a few years later.
At times, though, the film produces a refreshingly un-romanticized portrayal of the creative process. We hear Dickens's exasperated sighs and grunts when his father John Dickens (Jonathan Pryce) knocks at his door and disrupts his "flow."  We witness Dickens's procrastination habits, as he does lunges across his office, plays with his accordion, and fiddles with objects on his desk.  In such instances, the film creates a sensitive, if amusing, portrayal of the creative process – with all its interruptions, distractions, and fragmented thoughts – that any writer will recognize.
The film's refusal to glamorize the writer's life is most evident, perhaps, in its treatment of the literary marketplace. Unlike many narratives about writers, which either romanticize the "starving artist" or idealize the bohemian who pursues "art for art's sake," The Man Who Invented Christmas does not shy away from exposing the commercial pressures that hovered over Dickens's life.  We learn of Dickens's impatience with his father's continued spendthrift habits, as well as the darker trauma of his father's arrest for debt when Dickens was a child – an event that in the film occurs in the middle of Christmas dinner.  Dickens's enduring resentment of his father culminates in a scene in which he orders him to leave London and return to Devon, though, of course, the Christmas spirit ultimately leads Dickens to forgive his father and welcome him back to his home.
We observe Dickens's vexed negotiations with the pressures of the Victorian literary marketplace; he asks a solicitor for a pricey loan, negotiates for an advance from the publishers Chapman and Hall (Ian McNeice and David McSavage), and endures the "condolences" of William Thackeray (Miles Jupp) for Martin Chuzzlewit's marketplace failure.  At times, Dickens appears as money-driven as Scrooge – a smart, if a bit on-the-nose, parallel; he scolds his wife for burning a new candle and decides to walk rather than pay for a ride ("being a gentleman is expensive").  In several instances, Dickens even demands the labour of others; he begs the illustrator John Leech (Simon Callow) to produce the drawings for Carol in four weeks and pressures the printer to produce the last chapter, even though he has submitted the manuscript past the deadline.
For the most part, though, the film seems rather sympathetic towards Dickens's entanglements with the literary marketplace – and at times even suggests that economic pressure is a necessary, and perhaps even fruitful, condition for literary production. Early in the novel, after a vexed meeting with Chapman and Hall, who are skeptical of the possibility of a Christmas release, John Forster (Justin Edwards) – who sometimes appears as simply a bumbling sidekick, but elsewhere emerges as a crucial collaborator – reassures Dickens, "You like a deadline!"  Such practical, commercial concerns often serve as the impetuses for Dickens's creative output. Later, an advertisement for Dickens's Christmas book in the window of Hatchard's Bookshop induces Dickens to find the inspiration for the Ghost of Christmas Yet to Come.
In some scenes, it is even Scrooge himself (Christopher Plummer) who urges Dickens to write. Appearing to Dickens as a vision throughout the film, Scrooge serves as a kind of creative muse and motivator, who presses Dickens to sit down and write and offers him feedback on his plot and prose.  In one scene, Scrooge complains to Dickens, "My character doesn't get to tell his side of things" – a statement that spurs Dickens to consider having Scrooge-the-character reform.  Later, Dickens tells Scrooge, "Scrooge, you and I are going to do wonderful things together!"  As a result, when Scrooge asks Dickens, "You're the author, aren't you?," the audience must take this question seriously, as the film has so insistently highlighted the production of A Christmas Carol as a collaborative effort between the two men.
The film is at its best in such moments, when it self-consciously toggles back and forth between depictions of literary genius and evocations of the realities of the marketplace. The Man Who Invented Christmas showcases the tensions between creativity and economics. It demonstrates the ways in which the two were (sometimes productively) enmeshed.  For Dickens, it was not just the hair-pulling moments of creative work and the "lightbulb" moments of inspiration and insight, but also the external pressures of the literary marketplace and the stimulation of his economically-minded acquaintances, that propelled him to create A Christmas Carol.
The end of the film leaves viewers with satisfying amounts of holiday cheer. In the penultimate scene, Dickens and his happy family (certainly a fiction for the silver screen) gather in front of the "Tannenbaum" (Prince Albert's contribution from Germany) and toast the success of A Christmas Carol.  The group reads from Thackeray's glowing review of the novel, though the part they quote, which deems the novel "a happy inspiration of the heart that warms every page," was actually written by Thomas Hood, not Thackeray (and was not released until January 1844). Dickens and his family feast under their new chandelier, which, we can assume, they can now comfortably afford due to the novel's success. Forster's triumphant entrance with his brand-new fiancé heightens the scene's sense of domestic bliss.
And yet, the film doesn't quite leave us there. After the merry hearth scene, the camera pans out to depict a London street, on which scores of people have lined up in front of Hatchard's Bookshop (which is apparently open on Christmas?), ostensibly waiting to purchase A Christmas Carol.  This concluding sequence – as we move from the family home to the business-lined street – encapsulates the film's constant negotiation between creativity and commerce, art and profit, private and public.  Even as a closing caption reminds us that "overnight, charitable giving soared" upon the publication of A Christmas Carol, we are still left with an image of the consumer marketplace and a reminder of Dickens's economic success. The Man Who Invented Christmas thus refuses to ignore the uncomfortable intersection between Christmas and commercialism in which Dickens participated – nay, perhaps even "invented."
Leave a Reply