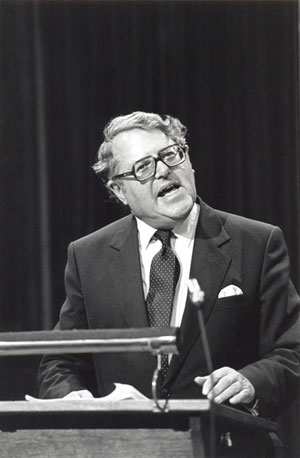 Asa Briggs was an extraordinary force of nature. The range and the significance of his contributions to twentieth-century British history and to British historiography defy summary. He played a part in Bletchley Park code-breaking unit during the Second World War, before an academic career which saw him serve as Professor of History at Leeds, Vice-Chancellor of the new University of Sussex, and Provost of Worcester College Oxford, as well as Chancellor of the Open University. Along the way he was a member of the University Grants Committee, President of the Workers' Educational Association, chaired a parliamentary inquiry into the training of nurses, and was influential in formulating the educational policy of the then European Economic Community. Briggs was an irrepressible builder and champion. His capacity for living a life stuffed to the seams was legendary; reviews rattled off in theatre intervals, tutorials in taxis, insatiable globetrotting, all became part of the myth.
As a historian Briggs had little time for narrow academic argument. He wanted to be read, and read he was. He made the past live through the testimony of its inhabitants, and the textures of its material cultures. He gave weight to the importance of the common experience and its organizing structures, not least class, but did so without dogmatism, exposing the connectedness of society as well as its conflicts. His The Age of Improvement sold over 100,000 copies; later works were reissued and reprinted as Pelican and Penguin paperbacks, with each iteration garnering fresh readers seeking both education and entertainment. In the 1950s he was a regular on BBC radio, although despite more than thirty years as the official historian of the BBC he never quite established himself on television. But his published output was enormous: innumerable reviews, countless chapters, lectures and essays, and more than fifty books, covering people and places, organisational histories, picture books and photography, biography and autobiography, hospitals and Haut Brion; and his global readership was immense.
Of this extraordinary output it was his nineteenth-century social history that most endured. In fact, although it is easy to think of Briggs as the founder of Victorian Studies that honour rests elsewhere; but he was in effect the UK editorial office of Victorian Studies in its early years, and in this role, as much as through his writing, he helped to shape interdisciplinary nineteenth century studies in its early manifestations. Fifty years after its initial publication, Victorian Cities is still a formative point of reference for urban historians, and some of his conceptualisations of the century's history, such as the gravitational shift from Manchester to Birmingham and its effects, have become simple orthodoxies. His works were treated by many literary historians with an almost religious reverence, although his own interdisciplinarity inclined more to economics and sociology. He was deeply suspicious of generalisation and periodization, and yet the cumulative effect of his writings on the nineteenth century was to establish the coherence of the Victorian period as a period.
Briggs was, as he once confessed, 'a bit of a Victorian', shaped by a smoke-shrouded childhood in an inter-war Keighley still essentially a Victorian community. His house in Leeds in the 1950s was described by A.J.P. Taylor as 'like Asa himself, small, squat and full of Victorian bric a brac'. He permeated the landscape of Victorian Studies, helping to launch the Society for the Study of Labour History, and the Social History Society, serving as President of the Victorian Society, the William Morris Society and the Bronte Society. Without ever constructing a 'school', or fitting the model of a modern supervisor, he supervised many subsequently influential Victorian scholars. He was a generous, perceptive, and above all an enabling critic. And that ultimately was the Briggs essence – belief that success in historical writing was to be measured more by the questions raised and the approaches encouraged than by the answers provided. Victorian Studies is still a long way from exhausting the lines of investigation he opened up.
Martin Hewitt